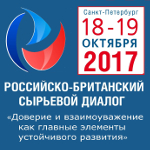 The Russian-UK Raw Materials Dialogue presents its inaugural conference: "The major elements of sustainable development"
St Petersburg Mining University, St Petersburg, Russia on 18-19 October 2017
Global challenges to the mining sector in Russia and UK, professional standards for engineers and joint scientific research will be key themes of the conference. For full details of the programme follow the link on in the left hand menu.
This event is free to attend. 50 scholarships are available for students, postgraduates and young researchers of UK leading universities and scientific centres.  Travel and accommodation will be paid for.  For more information please contact ian.bowbrick@iom3.org
This event is organised jointly by IOM3 and the St Petersburg Mining University as a result of a strategic partnership established between the two institutions in 2015. The partnership is based on mutual co-operation with the aim of improving professional standards and helping to integrate the international professional community.
Read more: http://www.iom3.org/event/major-elements-sustainable-development